CLUB DIVES

---
Club - Open to All
Our 'club' doesn't have any required meetings or membership rolls that take up valuable time that could be spent underwater, we just go diving and have fun! We would love to have you join us on any of the dives, meetings/socials or any of the other events.
All of our Club dives are shore dives and in cold water so cold water diving experience is required. This means experience diving in cold water with at least a 7mm wetsuit or drysuit.

Note: The folks staffing the shore dives are mostly volunteering their time and often don't get to dive that day, so please consider bringing them cookies/tipping/some other form of appreciation for their time dedicated to helping you dive safely.

General Information
Our dive staff will be on site during the posted times to give you an overview of the dive site and lend you a hand getting in the water if you need it. These are not guided, supervised or instructional dives, you and another certified diver are planning and conducting your dive. The dive site descriptions are not meant to be used as any type of dive advice, or guarantee that it is suitable to the level of any particular diver. It is general info and recommendations only. Doing your own research is great, and knowing your own abilities and skill level is even better, and you should always be sure that you and your buddy(s) are comfortable doing a dive before you embark upon it.

Be sure to check in with our staff and sign in if you are participating in our club dives. You don't have any excuse now not to go diving. It's free!


Cost: FREE!

Rental Gear is available at 1/2 price

Divers need to bring their own gear to the dive site

Prerequisites: Open Water Certification (Sometimes Advanced Open Water for more difficult dives) and cold water diving experience.

Don't have cold water diving experience?

Check out our

Cold Water Orientations!
2017 Schedule

---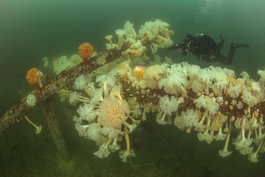 Club dives are open to Open Water Certified divers unless noted as requiring an Advanced Certification. Conditions may vary day to day so each diver is responsible to evaluate the dive conditions for themselves.
All divers must also have prior experience diving in a cold water environment.
We will have dive staff onsite to assist you but they are not there to conduct Cold Water Orientation dives or other training activities. Please be at the dive site with gear assembled and ready to dive by the start time of the dive. Many of the dives are planned for slack current. Being even a few minutes late may mean that you will not be able to dive. We look forward to diving with you.
More Club Dives to come soon
Photo Credit
---
---